Short films but the competition is big ..!
In the meantime, our audiences are facing a tough test for short films. For the first two days, Mouth Talk is looking at theaters for the third day. This has made solo release openings difficult for smaller films. Six such short films are set to release this Friday 22nd. George Reddy is one of the most promoted of them, while Isha Rebba and Satyadev starrer 'Ragla 24 Hours',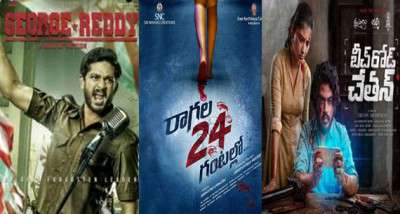 Rajendra Prasad and Vennela Kishore starrer 'Tollombollata' and Chetan Maddineni's 'Beach Road Chetan' and 'Pichhoddu and Trapna' are all 6. There are also dubbing movies like 'Frozen 2, Jackpot'. And if any of these are released at the last minute on the 22nd, there is a possibility of a bitter competition. So any number of films in these four days can get better openings that attract the attention of the audience with promotions.